Hybridz:
Congratulations to
Michael Sam aka. Frenchie for making a 5 page article including a few shots of his car on the cover of Maxi Tuning (France) June 2006
.
Hybrid luv,
James Lin
Click on each picture for full size.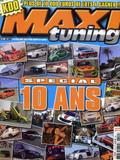 Translation:
Page 1:
"New tendency in the USA, the VIP style is a Japanese style inspired by the Yakuza's cars, the Japanese Mafiosos. As with the DUB style, this style is about modding a large sedan, but here you can forget the bling that so many American rappers love. Everything should only be sobriety, comfort, performance, and luxury.
Page 2:
You remember that TV ad for the Peugeot 607, the one where the other cars hide away in fear? Well, that's about the same effect that Mike (a Frenchman who lived for the last 10 years in L.A.)'s E55 AMG has. Not that the guy is mean, quite the opposite. We spent a day with him and we can promise you, he's adorable.
The problem comes from his car, an abyssal black ship equipped with a 5.5liter and 365HP power plant made by AMG. When we first see it, we try to imagine who may be at the wheel. Usually, there are only two types: A star of the show business or a Mafioso. By fear that the latter is the one, we quickly look away from it and keep going our way….
Too bad, because with a trained eye, you could've noticed the details that made this Benz win numerous awards at the biggest American car shows due to its very "VIP" style.
Mike's E55 is the perfect illustration of the VIP style.
The body, of a deep black, is accented by tasty and tasteful mods, such as the front bumper spoiler in carbon fiber, a Brabus creation that Mike is the only one to have in the USA. The trunk lip spoiler is a Japanese model made by Brain Cadena, here too a rarity as only two of them ever left the Japanese soil.
We could also talk to you about the headlights. Originally found on the new E55, Mike purchased these bi-xenons for a small fortune to break them….so he could retrofit them onto his 2000 E55! And as for the front hood grill, Mike found this from an entry model E class. Curious at first, this choice is understood once we learn that Mercedes only exports top of the line E-classes in the USA, thus making this hood grill unique in the States!
Lower caption:
Inside this type of black Benz, we find either a show business star, or a Mafioso….
Page 3
Top left:
In line with the VIP style, the interior shouldn't be cheap but luxury, pure and hard. At this little game, Mercedes is a master, so the leather interior is thus preserved. But for the little details, Mike also knows how to do it right. So as you open the doors, a kit of 5 small LEDs light up the ground for you so you can avoid walking where you shouldn't. A little gadget signed by Brabus (wow!) and in perfect harmony with the AMG door sills' blue. As for the door locks, Mike admit himself that he has lost it! A luxury that master Brabus charges 120euros…each! But such is the VIP philosophy: favor quality over quantity.
Middle right:
One of Mike's prides, this Brembo "Gran Turismo" big brake kit sports 4 pot on 330mm rear rotors and 358mm in the front. To be certain that nobody will miss seeing them, Mike asked iForged to create for him a set of 19" wheels that lets easily see the Brembo hardware. As opposed to the DUB style, the wheels VIP should be sober, so no crazy super sizes and certainly no chrome! And so that the Benz stays planted on the ground despite the AMG power plant, Mike decided to put his trust in Michelin Pilot Sports and in a Bilstein/H&R combo for the suspension.
Bottom left:
A limo style ICE setup is installed in the E55 AMG. Other than the stock sound system, not very far from being perfect in this type of luxury car, Mike added an Alpine source with retractable monitor and a navigation system. To muscle up the deal, he also added JL subs, boosted by a dedicated 1,250 Watts amp. Finally, for entertainment, the Benz sports a PS2 with a certain Electronic Arts game playing all the time….can you guess which one? The virtual world meets the real world when we discover on the driver side a Valentine 1 radar detector and a scanner to listen discreetly to police frequencies. A little gadget that comes very handy when one's motor has been done by the engineers at AMG.
The funny thing in all of this, is that in California, it's legal to use for as long as it is not used to escape cops….Go figure that logic!
Page 5
Top Caption:
This E55 AMG breathes exclusivity and luxury, with hardware imported from European and Japanese tuners!