Hybridz:
Congratulations to Sunny Suravarapu's twin-turbo Honda Accord EX V6 for being featured in the online website - HondaTuningMagazine. Please visit
www.HondaTuningMagazine.com
and for the exact link of the article which was released 10/06/10, please visit
http://www.hondatuningmagazine.com/f..._v6/index.html
2004 Honda Accord EX V6 - Anti-Estabolishment
No Matter How You Look At It, It's No Civic
October 06, 2010
By Aaron Bonk
Photography by Henry Z. De Kuyper
Nobody can ever accuse Sunny Suravarapu of succumbing to the status quo. When the Honda masses established Civics and Integras as standard issue, Sunny bought an Accord. When subtle, JDM paraphernalia became de-facto bolt-on fare, Sunny opted for more flamboyant add-ons from whereabouts non-JDM. And when Honda tuners worldwide all but shied away from multiple-turbo forced induction, Sunny bolted not one but two turbochargers onto his Accord's bright and shiny V6.
It's entirely possible that it all began with Sunny's father, a man who owned a first-generation Prelude-not a Civic. Sunny later found himself among the ranks of the fraternity that is the 1980s Japanese sport coupe aficionado, now the owner of a second-generation Prelude, and later a third-generation Prelude-both, also not Civics. It only made sense then that he purchase his friend Steve's fourth-generation Prelude (which incidentally isn't a Civic either) once it was up for sale. Problem was, Sunny's dad didn't exactly approve of his son paying for a modified car like Steve's. Turns out that Sunny wasn't interested in owning all five iterations of Honda's Prelude, though, and instead gave up on Honda's crown jewel coupe altogether and purchased an '04 Accord EX V6, which, for all intents and purposes, is also no Civic.
With one of the most under-appreciated chassis of the Honda family, Sunny is breaking the mold with his turbo V6-powered Accord.Like most fathers, Sunny's clearly forewarned against any alterations to his son's Accord. Sunny didn't listen, and the shenanigans commenced. First, he lowered the almost-new coupe with the help of Eibach springs tucked behind Blitz Technospeed rims. An AEM cold-air intake along with some in-car entertainment also caboodled their way onto Sunny's Accord, despite dad's clear instructions. And then one day Sunny's friend told him of the SEMA (Specialty Equipment Market Association) show-the biggest automotive aftermarket gathering on Earth. This is the day that everything went terribly wrong as far as Sunny's dad is concerned.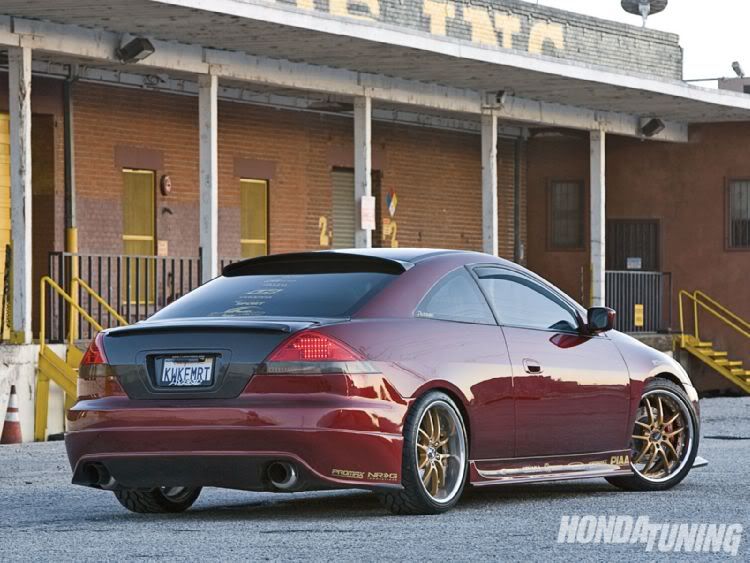 Not long after learning of SEMA, Sunny determined that he'd have his car there in time for its 2006 engagement. Trouble was, his Accord wasn't exactly SEMA-worthy. To be sure, Sunny's Accord wasn't even ready for the Tuesday night meet-up in the nearby taco shop parking lot. Although the wheels and intake made for well-intended beginnings, the V6 two-door still fell short in terms of being anything special. External modifications like the AIT Racing body kit were Sunny's first attempts at changing all of that. Of course, an Accord of SEMA proportions almost always requires an exterior color change; Sunny's is no different. Its sheet metal is buried underneath House of Kolors Kandy Red, an appropriate juxtaposition against the bare, carbon-fiber hood, roof, roof spoiler, and trunk-also from AIT Racing. Finally, Sunny updated his Accord's wheel package with 19-inch PIAA Super Rozzas.
Twin Garrett GT25s were chosen to boost the V6 power-plant.Satisfied with the exterior, Sunny moved on to cajoling more power out of his Accord's J-series. Yes, the seventh-generation Accord's 240hp 3.0-liter engine isn't for wussies, but when given the task of tugging around more than 3,200 pounds of metal, fabric, rubber, and glass, it can stand for improvement. Sunny called upon renowned turbocharger manufacturer Garrett for the solution. He walked away with not one but two GT25 turbochargers. Bespoke metal work plumbs the turbines into each cylinder head's exhaust manifold while each compressor is directed into custom Evolution Racewerks intercooler piping that feeds into a Yonaka Motorsports front-mount intercooler. Despite the fact that Sunny's V6 makes due with two more turbochargers than Honda thinks it should have and one more than you might expect, the layout is relatively simple and involves little more than the aforementioned bits along with a Turbo XS blow-off valve. Simplicity wins thanks to twin internal wastegates and fuel management that consists of little more than an AEM FIC piggyback unit complemented with a Walbro in-tank fuel pump and Precision Turbo fuel injectors. But simplicity aside, the configuration is good for 350 whp and 340 lb-ft torque at only 9 psi as measured on SoCal-based Church Automotive Testing's Dynapack dynamometer.
Confident that his Accord was capable of breaking off the majority of Civics and Integras that roam throughout his Upland, CA, neighborhood, Sunny moved on to the interior, where he personalized it with Yonaka Motorsports seats, custom upholstery bits, and a sizable collection of audio upgrades. All of this was good enough to earn his Accord a spot at SEMA some five years ago, however, none of this came as effortlessly as you might imagine. To be sure, the first turbo system "installer," who was compensated with little more than a case of Red Bulls, was soon superseded by one more competent. Unfortunately, it was a similar scenario in regards to Sunny's audio components. And then there was the paint shop that couldn't meet Sunny's SEMA deadline. Fortunately, Evolution Racewerks ultimately sorted out the turbo system while Xtreme Image made sure that Sunny's in-car entertainment was in working order and, somewhere along the line, the folks at M1 were able to spray the car in time.
Close your eyes and imagine the ultimate Honda build. Chances are an '04 Accord draped in slabs of carbon fiber and massive 19-inch wheels isn't what first comes to mind. And that's precisely what Sunny would hope for. In an effort to reap attention among the seemingly endless pecking order of "minty," "clean," and JDM-themed Civics and Integras, Sunny elected for something a bit more...outlandish. But it wasn't all about looks for Sunny; he'll be the first to tell you that he followed the Accord path simply because he wanted a V6. The results speak for themselves and are, at the very least, anything but status quo. Like it or not, please don't ever accuse Sunny of following the rules. Not even his dad's.
Owner Specs
Propulsion
Innovative Mounts engine mounts
NRG Innovations engine torque damper
idesigns carbon-fiber valve cover
AC Autotechnic oil cap
AEM air filter
Twin Garrett GT25 turbochargers
Yonaka Motorsports front-mount intercooler
Evolution Racewerks intercooler piping
Turbo XS blow-off valve
Rich V6 J-pipe
Evolution Racewerks downpipes
NRG Innovations carbon-fiber mufflers
Custom exhaust piping
AEM fuel filter
NRG Innovations fuel pressure regulator
Precision Turbo 440cc/min fuel injectors
Walbro 255lph fuel pump
Russell Performance fittings and lines
AEM FIC engine management
Optima battery
Mizu radiator
AC Autotechnic radiator cap
AIT Racing carbon-fiber radiator cover
Nitrous Express single fogger kit
AMSOIL engine oil
Clutch Masters Stage 2 clutch
Clutch Masters aluminum flywheel
Stance
D2 Racing coilovers
DC Sports front shock tower bar
Progress rear anti-roll bar
Innovative Mounts bushing kit
SPC front and rear camber kits
Resistance
Wilwood cross-drilled/slotted rotors (front)
EBC rotors (rear)
Wilwood calipers
EBC pads
Russell Performance steel braided lines
AMSOIL fluid
AC Autotechnic reservoir cover
Wheels And Tires
Front: 19x8.5 PIAA Super Rozza (+42 offset)
Rear: 19x9.5 PIAA Super Rozza (+42 offset)
Front: 245/35-19 BFGoodrich G-Force T/A KDW
Rear: 265/35-19 BFGoodrich G-Force T/A KDW
NRG Innovations lug nuts
Exterior
House of Kolors Kandy Red paint
AIT Racing body kit
AIT Racing carbon-fiber hood
AIT Racing carbon-fiber roof
AIT Racing carbon-fiber roof spoiler
AIT Racing carbon-fiber trunk
Promax M3 carbon-fiber trunk spoiler
NRG Innovations carbon-fiber hood damper
Weather Tech window visors
JSDesign graphics
Interior
Yonaka Motorsports seats
Evolution Racewerks seat brackets
Xtreme Image custom upholstery
idesigns carbon-fiber interior accents
ATI gauge cluster
NRG Innovations carbon-fiber shift knob
NRG Innovations carbon-fiber e-brake handle
NRG Innovations carbon-fiber pedals
NRG Innovations carbon-fiber rear view mirror cover
ARK Design boost controller
AC Autotechnic boost press., air/fuel, exhaust temp. gauges
Soundstream audio
Tsunami battery components
Props
Chitra, Kids, Adam and Sarah, Dad, Bobby,
Nick "Babu", Robert and Adam, AIT Racing,
Soundstream, idesigns, Performance Wheel Repair, Xtreme Image, Church Automotive Testing,
House of Kolor, JSDesign, Promax,
Tuners Depot, NRG Innovations,
M1, PIAA, Evolution Racewerks
Fox Marketing
www.V6p.net
Team Hybrid