Hybridz:
Congratulations to LV Chapter's Keoni Viernes' 2005 Mitsubishi Lancer EVO IX for being featured and written about in
www.PASMag.com
. For the exact link of the article, please visit
http://pasmag.com/features/rides/263...i-lancer-evo-9
Straight Shooter: 2005 Mitsubishi Lancer EVO 9
To those of you that have only seen it on TV shows and movies, Las Vegas truly is the City of Sin. With all the gambling and debauchery that goes on there, it's no wonder that the phrase "what happens in Vegas, stays in Vegas" was coined.
--------------------------------------------------------------------------------
But, even with so much madness going on, not everything should remain a secret from the rest of the world. Take Vegas resident Keoni Virenes' 2005 Mitsubishi Lancer Evolution 9 for example. To flip the script, keeping this show-stopper a secret from the general public would be actually be a sin.
Before we get into Keoni's Evo, it's important to dig deeper into his psyche to figure out where his passion for cars has come from. Way back when, Keoni used to go to Volkswagen shows and was inspired by how uniquely built each car was. He wanted to get in on this action and was dedicated to turning heads and racking up trophies. Neither are easy tasks in a land of sport compacts. When he picked up his Evo, he knew there was no turning back. And, honestly, who can blame him?
Fresh off the assembly line, the ninth-gen Evo packs a mean punch with its two-litre turbocharged 4G63 motor and all-wheel drive powertrain. And, while his car started off as a daily driver, like many of us, Keoni wasn't satisfied with bone stock. Getting linked up with the members of Team Hybrid car club convinced him to take his vision to the next level and build a "show and go" beast.
He first tapped into the potential of his Evo with basic engine bolt-ons and rims, but quickly realized that wouldn't be enough to feed his passion. Since Keoni's Evo began its life in Tarmac Black, it wasn't cutting it at nighttime car shows where it was practically invisible. The biggest transformation began with the aesthetics and Keoni enlisted the help of his Hybrid teammates get some extreme body work done. Though its body lines already give it a chiseled look, a full Voltex body kit with wide fenders and a 59-inch rear wing from Evasive Motorsports made Keoni's car look downright mean. Of course, an aggressive body kit just wouldn't be enough. Keoni took his car to Pacific Custom Paint to get a full spray job in a retina-burning House of Kolor Sunrise Pearl with ICE coating, making his Evo look like it just rolled off of the floor of the Tokyo Auto Salon.
But, body work alone doesn't make a car worthy, so Keoni started digging into the 4G63 motor that has near unlimited potential. A Turbo Force Green turbocharger mated to a GT-Spec tubular manifold replaces the stock units to force more pressurized air into the combustion chambers. With all the additional heat from the larger turbo, replacing the factory intercooler with a massive HKS Type R was a must along with a grip of Mishimoto cooling accessories. While most of the 4G63 internals remained stock, Keoni did drop in a set of HKS cams, adjustable sprockets and JE pistons for extra insurance.
All that jargon equates to a dyno-tested 450 hp and 385 lb-ft of torque in a street car that runs the quarter-mile in 12.4 seconds at 120 mph with an overall top speed of 172 mph. Not too shabby for a car that can be daily driven with a full interior and audio system. Oh, lest we forget to mention the audio system. Keoni isn't taking home his seven trophies just from looks and horsepower. Pop the trunk and he has a ridiculous Sony audio setup that would have wake people up from the next city over if cranked up to full blast. From the XAV-64BT head unit through the XM ZZK3301 and XM ZR204 amplifiers and down to the XS-LD106PS subwoofers, there's no question as to how intense this system is.
Though his project isn't near completion, a humble Keoni credits this build to his sponsors and the other members of Team Hybrid for helping him get through this long process. By the time you're reading this, there's little doubt he'll have racked up double-digit trophies with many more to come. We hope he has a lot of storage space. So, be honest, aren't you glad this Las Vegas gem wasn't kept secret from you? We probably broke some "bro code" rules by exposing it, but we're ready to deal with the consequences.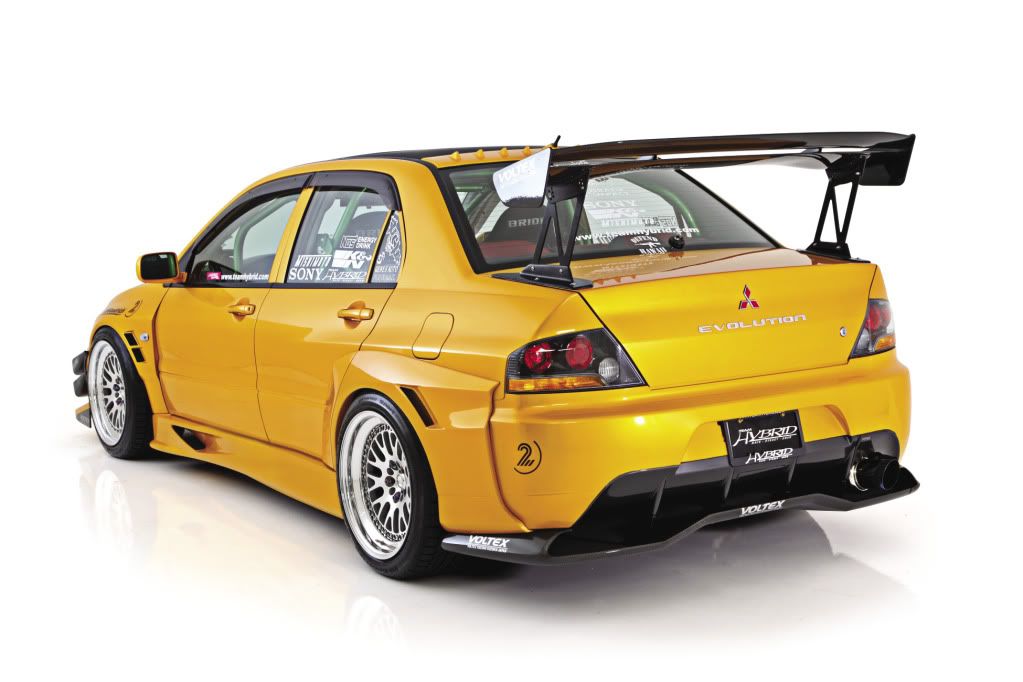 ESSENTIALS
Vehicle: 2005 Mitsubishi Lancer Evolution 9
Owner: Keoni Viernes
Location: Las Vegas, Nevada
Engine: 2.0L turbo (4G63)
Estimated Horsepower: 450 hp
Estimated Torque: 385 lb-ft
Top Speed: 172 mph
Web site:
www.teamhybrid.com
SPONSORS
Team Hybrid, BFGoodrich, Meguiar's, Mishimoto, Sony, Clutch Masters, NOS Energy Drink, Energy Suspension, K&N, Pacific Custom Paint, Chris Walls, Grafix Impact, Gene's Auto Sport, Evasive Motorsport